ProGRP is a new advanced liquid applied GRP – Glass Reinforced Polyester- flat roof system. It has been specifically engineered for flat roof applications in the UK market. It is a fully integrated seamless system where all the components are designed to work together to ensure that you can take full advantage of this rapidly expanding market.ProGRP can be used on virtually all types of flat roofs up to and including vertical surfaces for example the cheeks of a dormer or the inside face of a mansard or parapet roof.
We have extensive experience using GRP to solve the problems often associated with failed leaking bitumen felt roofs and we are here to help you. We offer full training for you and your staff at the distributor's depot. Ask your distributor for more details and cost.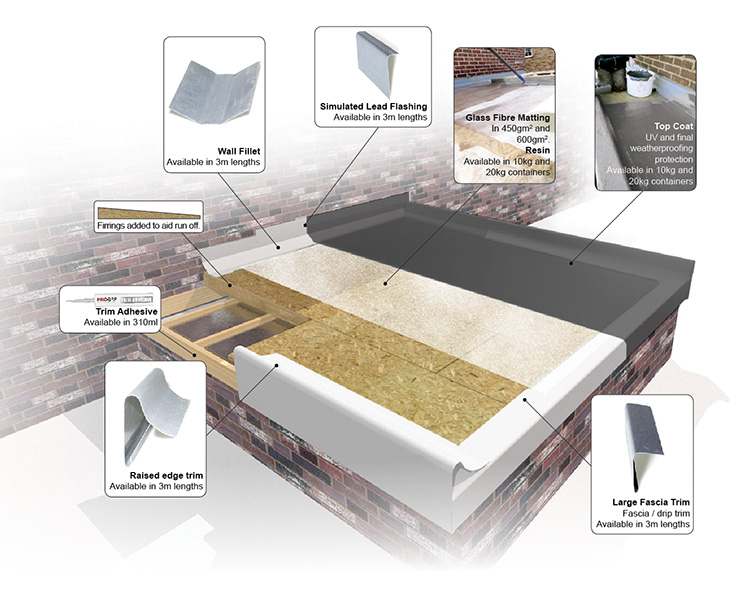 Resistance to foot traffic
ProGRP is available with two grades of chop strand matting (CSM).
450gsm CSM for areas of occasional foot traffic.
600gsm CSM for areas of heavy foot traffic or load bearing (decking, promenade tiles, green roofs) in conjunction with a slip resistant finish.
System Features
All ProGRP components are engineered to be used together.
Range of profiled edge trims to suit all applications.
25 year materials guarantee.
Low styrene emission resins.
UV resistant.
The ProGRP laminate is fully resistant to wind uplift
Anti slip resistant finish available
Fire retardant